We require all files for printing to be in CMYK colour, a minimum of 300dpi, all fonts either embedded or outlined, with crop marks and a minimum of 3mm bleed around all edges.
Correct colourspace
When it comes to colours the most important thing to understand is the difference between CMYK and RGB. CMYK stands for Cyan, Magenta, Yellow and Black. RGB is Red, Green and Blue. Setting up the correct colour mode is crucial for commercial print in order to get as close to your on screen artwork as possible. Most basic home printers are RGB, some things such as canvasses may also be printed in RGB. RGB is also the primary color mode used by electronic display devices (e.g. monitors). Most commercial printers will use CMYK. We will require your files in CMYK colour mode unless we are printing a canvas for you so if you are working with an RGB file it will need converted. We can convert your artwork for you if you email it to info@afterhourscreative.co.uk

Accepted file formats
We accept the following file formats: PDF, EPS, JPEG, PSD. We can also accept and convert Word Documents.
Image resolution
Making sure your artwork is in the correct image resolution (sometimes called DPI or PPI) is crucial for non-pixelated images and great print quality. Most printers and designers work with an image resolution of 300dpi for print.

Print bleed
The bleed area is what bleeds off the edge of the page. Bleed is required for images/colours that you want to go right to the edge of your print. Bleed allows for your artwork to be trimmed without an uneven white border around the edges.The reason this white border may appear is because it is extremely difficult when trimming to be completely accurate. The 3mm extra allows the printer to be up to 3mm off the trim mark while still producing an excellent print without a white border.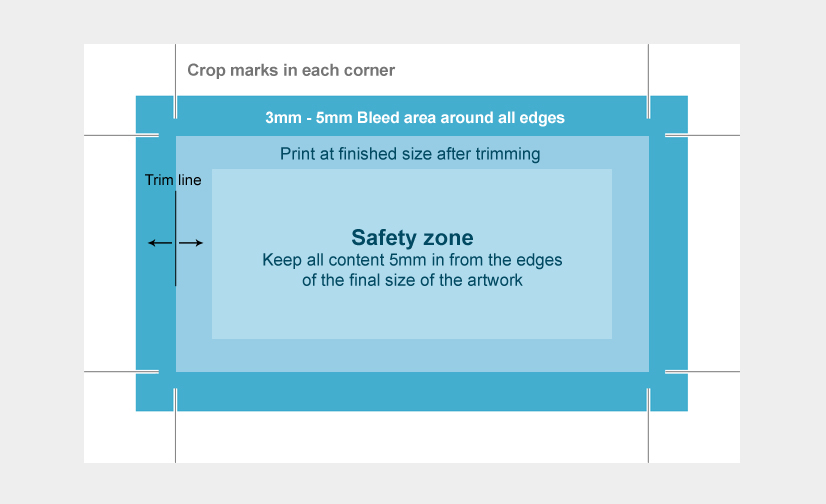 Embed or outline fonts
Unless fonts are embedded or converted to outlines they may automatically substitute without warning during printing. Embedding the fonts you have used or converting them to outlines (or vector objects) means they will not alter during printing. If you are working in Photoshop you can also flatten the entire file and not have to worry about embedding or outlining fonts.

When a font is not outlined or embedded, it remains available to be selected so you can edit your text and change the font.

However, if the font you have used is not on our system it may automatically substitute to a different font without warning. This may change the layout of your artwork during printing.

Outlined fonts make each individual letter a seperate object which means each letter can be selected and moved around. This ensures we do not require the font you have used and no substitution will take place. Once completed, save your work to ensure it is editable then outline all text and save it again for printing. Doing this means should you need to amend the text you will still have your editable source file available. You can also embed or flatten your file (including text) this will save outlining fonts.
Proofs
When ordering printing online through our website you will be provided with a PDF soft proof of your artwork. This proof will require your approval before we proceed with printing.
Glossary
Bleed - a term that refers to printing that goes beyond the edge of the sheet after trimming.
Trim - the final size of a product after its unnecessary parts have been cut off or removed.
PDF - (Portable Document Format) is a file format created by Adobe Systems in 1993 for document exchange. PDF is used for representing two-dimensional documents in a manner independent of the application software, hardware, and operating system.
TIFF - (Tagged Image File Format) is a high resolution loss-less file format that is ideal for saving images for print.
DPI - Dots per inch (DPI) is a measure of spatial printing or video dot density, in particular the number of individual dots that can be placed within the span of one linear inch (2.54 cm). The DPI value tends to correlate with image resolution, but is related only indirectly.
PPI - Pixels per inch or pixel density is a measurement of the resolution of devices in various contexts; typically computer displays, image scanners or digital camera image sensors.
Image Resolution - describes the detail an image holds. The term applies equally to digital images, film images, and other types of images. Higher resolution means more image detail.
EPS - Encapsulated PostScript is a DSC-conforming PostScript document with additional restrictions intended to make EPS files usable as a graphics file format. In other words, EPS files are more-or-less self-contained, reasonably predictable PostScript documents that describe an image or drawing, that can be placed within another PostScript document.
For help setting up your file for printing please contact us
Call 0116 2403651
Email info@afterhourscreative.co.uk